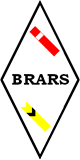 Home Page - History - Nets - Contacts - Gallery - Links - News - Membership
Membership
Membership of our society is open to anyone interested in both railways and amateur radio (regardless of whether they hold an amateur radio licence).

The Society's membership year runs from January to December. Membership includes the Society's magazine "Rails and Radio".
For anything and everything to do with membership (including applications, subs, change of address or callsign) please contact
Richard Waterman G4KRW
170 Station Road, Mickleover, DERBY, DE3 9FJ
membership@brars.info
Subscriptions for our 2023 membership year are £6 (UK pounds).
If you would like to become a member of BRARS then please download our membership form (PDF format).
The preferred method of payment of subscriptions is by bank transfer ("Faster Payments"). The details are:
Account name




BritishRailwaysAmateurRadioSociety




(quote this precisely as shown, with

NO spaces

)

Sort code



77-01-07
Account number

22294260

Reference



use the format CallsignSurnameFirst-name
e.g. G9ABCBloggsFred
(written as one word with

NO spaces

)